Materials Listing
Stainless Steel
We stock the most popular grades of stainless steel 300 series (301, 302, 304, 316 and 321) and 410.  Tempers are available from Annealed to Full Hard and thicknesses range from .001 - .095.
Cold Rolled 17-4 and 17-7 steel are in stock in thicknesses ranging from .002 - .032.
We also carry laminated 300 series stainless in thicknesses from .020 - .040.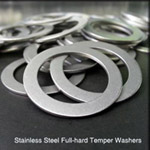 CR Steel 1010
Available in .001 - .080 Thicknesses in ½ hard and full hard tempers.
Spring Steel 1095
Blue Spring Annealed in .001 - .083 Thicknesses
"Your Blueprint is our Catalog"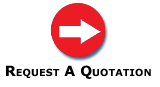 Non Metal Materials
We carry Delrin (thermo plastic material), Fibre (Black & Red), Fish Paper, Natural HDPE (High Density Polyethylene), Kapton TKH-500 Film, Mylar, Neoflon PCFE M-400H, Nylatron, Nylon Zytel, Polyester, Rulon, and PTFE. All are available in a variety of thicknesses.
We carry a wide range of plastics from .0005 - .030. Each thickness represents a color for quick reference. Please see the table below.
| | | | |
| --- | --- | --- | --- |
| Thickness | Color | Thickness | Color |
| .0005 | Silver | .00075 | Gold |
| .001 | Amber | .0015 | Purple |
| .002 | Red | .003 | Green |
| .004 | Tan | .005 | Blue |
| .0075 | Grey | .010 | Brown |
| .0125 | Black | .015 | Pink |
| .020 | Yellow | .025 | White |
| .030 | Coral | | |