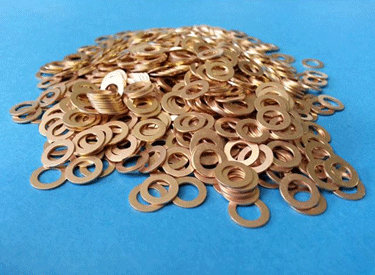 330 X .200 X .020, PHOSPHOR BRONZE
Cert#: ASTM-B103
Temper: H08 Spring temper
Alloy: C51000
ISO 9001:2008 Certified
DTCC Registration # is M28972
US/Canada Defense Logistics Joint Registration #DD2345
DFARS 252.225-7009 Compliant Metals
Cage Code: 08555
Phosphor bronze is one of the materials that can be made into custom washers to meet your exact specifications. We offer washers that include: belleville, bowed, cup, disc, pivot, spring, and tension.
Phosphor Bronze Round Washers

...and retaining rings. Commonly used in applications requiring high strength and high temperature resistance. They are:
Resistant to fatigue
Resistant to wear
Resistant to corrosion
Non-magnetic
Commonly used in Specialty Folding Knives and Knife Kits
"Your Blueprint is our Catalog"