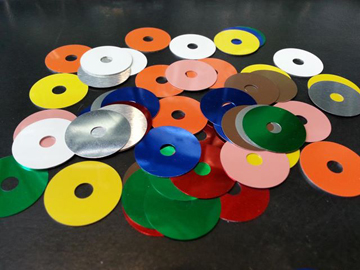 Pictured above: Aluminum Washers w/Sulfuric Dichromate Finish
ISO 9001:2008 Certified
DTCC Registration # is M28972
US/Canada Defense Logistics Joint Registration #DD2345
DFARS 252.225-7009 Compliant Metals
Cage Code: 08555
Our lightweight Machined Aluminum Washers are one-third the weight of steel, have a good sealing capability, are non-magnetic, good heat conductors, and may be anodized to increase corrosion resistance.
Lightweight — 1/3 the weight of steel
Have good sealing capability
Non-magnetic
Good electrical conductors
Good heat conductors
May be anodized to increase corrosion resistance
Available in Sulfuric Dichromate, Black Oxide, Cadmium and other finishes

Aluminum Washers Manufactured by Brewster
Versatility and efficiency makes Aluminum the second most used metal after steel.
Brewster carries several types of aluminum grades used in our flat round washers.  The following are some grades along with typical properties and applications.
Aluminum Alloy & Temper

Typical Properties & Applications

1100-0
1100-H14

Aluminum resistant to chemical attack and weathering; low cost. Used in chemical equipment, and sheet metal work.

2024-T3
2024-T4

High Strength and corrosion resistant.  Used in aircraft structures, automotive parts, and fasteners.

3003-H14

Most popular general purpose alloy, stronger than 1100 series.  Used in pressure valves, sheet metal work, trucks and trailers.

5052-H32

Stronger than 3003 series.  Used in hydraulics, pressure valves and marine applications.

6061-T4
6061-T6

Used in marine applications, building products, electrical and electronic parts.
No matter what type or grade you need, Brewster can help you make the right decision so you purchase the Aluminum best for your washer, shim, disc or odd shaped flat part project.
"Your Blueprint is our Catalog"